Montessori School of Palm Springs and Palm Desert were established in 1984 with a goal of fostering independence and to support the children in moving towards a mastery of self and the environment. The environment is designed to encourage children in their self-directed discovery of the world. Interest-based activities encourage children to develop a love of learning and to trust in their ability to learn. The teachers intensely follow each child on a one-to-one basis.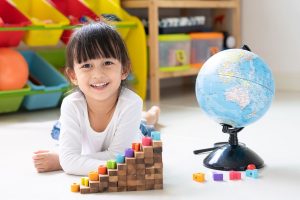 LEARNING SHOULD BE FUN
Our role is to nurture and preserve your child's natural curiosity and develop an openness to the unlimited possibilities of life, using the Montessori philosophy. We encourage children to develop academic, physical, social and life skills in an environment of mutual respect.
We believe that every child progresses at their own pace. As a result, while a child may need to be gently persuaded or offered alternatives on occasion, they will never be forced to participate in any activity they find uncomfortable.
MONTESSORI SCHOOL QUALIFIED TEACHERS
Our Montessori School certified teachers employ proven Montessori methods with a particular focus on academics and hands-on instruction for the early learner. Some Montessori practices we follow include:
Line Time: Group games, exercises, and active learning in a structured community circle to foster equality and sharing0.
Work Time: Children choose what to learn each day and work independently with guidance and encouragement from teachers.
Auto-Didactic Materials: Students learn by exploring and manipulating carefully designed learning materials which encompass language, math, science, geography, sensorial, and practical life subject areas.
PRACTICAL LEARNING
We believe children learn best through self-directed activity, hands-on learning and collaborative play. In Montessori classrooms children make creative choices in their learning, while the classroom and the teacher offer age-appropriate activities to guide the process.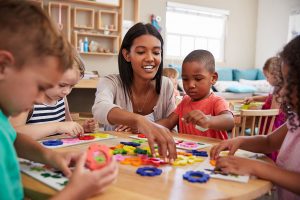 SMALL CLASS SIZE
Small class size is an important component of the Montessori method. As such, class sizes in infant care we have a 4 to 1 ratio, in the preschool have a teacher to student ratio of 1 to 12, and elementary school of 1 to 14. Additional teacher assistants provide support throughout the day.
REGULAR EVENTS
Special events and activities build the child's sense of community. We have seasonal activities celebrating important cultural events, as well as special community gatherings like our Thanksgiving Festival, Year End Program, Mothers & Fathers Day Celebrations, Art Festival, Science Week and Graduation Ceremony and More.

We are under the direction of a 30 year experienced Head of School that serves:

Infant – Toddler – 0 – 2 years (Palm Springs Campus Only)
Preschool – 2 – 5 years (Kindergarten)
Elementary – 6 – 12 years (1st – 6th)
Additional Services:
Half day Kindergarten for Public School students
Before and After Care For Public School students
Pick up drop off at Public Schools
Our Montessori School includes in our curriculum the following:
Spanish, French, Music, Dance, Yoga, Computer instruction and special guest visits from the local Police and Fire Departments, field trips,  and much more. Past field trips have included Riley's Farm, Living Desert, Palm Springs Aerial Tramway, Whale Watching, Aquarium of the Pacific, Petting Zoos, Children's Discovery Museum of the Desert, Palm Springs Art Museum
Extra Curricular activities:
Tennis, Gymnastics, Dance along with special guest visits from local Police and Fire Departments, Magicians, Travelling Petting Zoos, Puppet Theaters, and much more.
Summer Programs
Summer days are more relaxed with lots of fun activities. Children continue to learn while enjoying the best of summer. Summer programming includes longer recesses and outdoor sessions, weekly activities like water play and gardening, monthly fun days, picnics, and field trips!
Palm Springs Busing
The Montessori School of Palm Springs has pick-up and drop-off services available for kindergarten students attending public school, who require before and after care. Please inquire if our busses stop at your child's school 760-323-2502.
We currently have two passenger vans. All are certified for safety and state licensed for student transportation, with approved designated drivers.

The Montessori School Method
"It is necessary to give children the possibility of developing according to the laws of their nature, so that they can become strong, and having become strong, can do even more than we dared hope for them"
– Maria Montessori