Founded in 1984, The Montessori School of California offers programs for students from 6 weeks to 6th grade . . .
. . . A Way To Grow!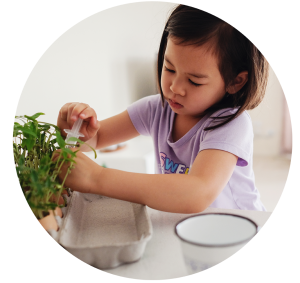 As an authentic Montessori School of California, our Palm Springs and Palm Desert campuses both offer a curriculum and programs that are designed to build a strong foundation in academics, as well as social, emotional, physical and moral development. This approach encourages a child's independence, self-motivation, and decision-making skills.
Our Montessori and state certified teachers receive continuing education and participate in ongoing training throughout the year. Supplemental teachers specialize in dance, music, foreign languages, and art. We maintain teacher to student ratios as required by the state of California .
Our classrooms are designed to stimulate the child's natural curiosity to explore the world around them. The classrooms are fully equipped with age-appropriate Montessori materials and our outdoor area is spacious with an engaging playground. Children can organize their own free play, get together in a large playground and participate in other organized sporting activities.

Our Mission
To create a "Children's House" where children learn joyfully through various methods, though mainly Montessori, under the guidance of a nurturing, professional staff.

Our Goals
Happy, well-rounded students who excel in academics, social and artistic areas and are in harmony with themselves and therefore with each other.
A professional staff who share their talents in academics, art, music, sports, languages, etc.
A school where excellence in all areas is the aim for each child, according to each one's talent and potential.
An environment conducive to learning and dedicated to creating a kinder, gentler generation.
To help each child gain wisdom through experience and knowledge.
Montessori School Of Palm Springs & Montessori School of The Desert has just a Handful of Open Enrollments Remaining!
Serving children from 6 weeks though
Enrollments accepted throughout the year
Open year-round, Monday through Friday from 6:30am to 6:00 pm
Affordable tuition rates ensure the best Montessori Infant, Preschool and Elementary Programs in two convenient locations across Palm Springs and Palm Desert
Please call our Montessori School of California locations for information and an individual tour to discuss your child's specific program and needs.